NOTE:
This blog contains content suitable for adults only. Please use discretion.
When it comes to romantic items the single ladies often feel left out. If you're single and loathe Valentine's Day because you're not currently in a relationship, this blog post is for you...
Singles give themselves the short end of the stick when it comes to tapping into their sexy, seductive and sensual side. Far too many single's look at Valentine's Day as an occasion to dread and not celebrate. You don't have to be in a relationship to enjoy Valentine's Day! As a matter of fact, I believe this is the best time to buy lingerie and explore fun, romantic items. It is the perfect time to love, pamper and treat yourself. Why not take advantage of all the fantastic deals, sales and promotions that the occasion has to offer?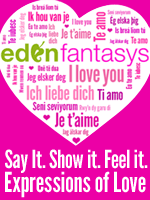 Here's the cool thing,
EdenFantasys'
has so many awesome products perfect for single gal's, I decided to do a Top 5 list. There is so much to choose from it was hard to come up with a list of just 5. The more items I looked at, the more I wanted to expand the list! But since a top 50 wasn't feasible, here are my top 5...part 1 :-)
My Top 5
EdenFantasys
' products that every single woman should indulge in...drum roll, please....
MY TOP 5
Dona Massage Candle
The moisturizing ingredients in this candle is a must have to indulge in after a shower or bath. If you haven't used a massage candle, now is the time to give it a try. After bathing, pour some of the wax in your hand and rub all over your body. Once you try it, you will see why this candle made my list :-) And just a hint, you'll probably want to grab 2 of these. Oh yes, and it works just fine as a candle as well. Burn and let the fragrance release in your favorite room. Retail: $9.99
Bath Kitten Kit
Booty Parlor products make me feel instantly sexy. I don't know if its the sleek design of the products, the packaging or the name but it's a must have in my boudoir and should be a must have in yours as well.
These little poofs get me every time! I love them, they just invoke classic vintage sexiness. But this poof is actually a purring massage mitt, that will help soothe your body and caress every curve as you wash away the day in your bath or shower. This kit comes with bubble bath milk. Whats even better is that this kit is currently on sale. Retail: $41.99 Sale Price: $31.49
Sexy Pajama's
Every girl, single or married must have a set of sexy PJs. These are great for just lounging or wearing to bed. After a long, hard day sexy PJs are an instant pick me up. It just makes you feel womanly, a perfect alternative to your old t-shirt and sweat pants. Luckily EdenFantasy has this cute little number pictured to the right. Feel free to check out all of EdenFantasy's lingerie selection
here
.
Retail: $28.99 Sale: $21.74
Get (sex)Educated
Let's face it. The Big O is still elusive to many women, if the big O eludes you as well, don't fret, get educated. Check out this book I <3 Female Orgasm. Its still considered in many circles taboo for women to learn about sex and even enjoy it. Many women don't know how they work or what they like and fear trying to understand how their bodies work because they think its shameful to enjoy sex. Let me tell you, it's not!
Hot Heart Massager
So this is one of my favs! This is great to use at your desk at work if you have a back ache or to soothe a sore muscle. I love how this warms up in an instant and can be used to relax and unwind.
Click here
to get this hot heart-shaped massager (isn't it cute?). It's currently on sale on the EdenFantasys' site for 25% off. A definite must buy and it makes a great gift!
Check out
EdenFantasys'
for all this great products and more. Treat yourself to something naughty or nice this Valentine's holiday! If you need specific product recommendations, feel free to shoot me an email at mypinkpiggybank(at)gmail(dot)com.