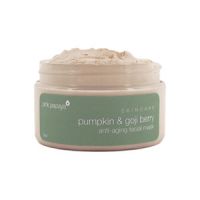 I guess it's about that time...
For me to start using anti-aging products. I'm 33, no wrinkles...except for the lines under my eyes due to lack of sleep. But other than that I'm wrinkle free and I'd like to stay that way.
Lo and behold comes along a product that has anti-aging properties and it happens to be one of my not-so-guilty indulgences are facial masks. I received a jar of Pink Papaya's Pumpkin and Goji Berry Anti-Aging Facial Mask courtesy of my Pink Paypaya's representative, Stacia (
click here for her FB page
).
Anyho...on with the story.
I received the jar on June 2 and I've used it about ten times since then. First I must say a little goes a long way, the jar is still about full and I'm not necessarily light handed when it comes to product application :-p
The second thing I noticed is that the acne around my jawline (from a combination of stress and hormones) begin to dry up...POW! Take that acne! So that was a great bonus.
The mask itself goes on smoothly, barely has a smell and is a fairly thick consistency. Its a clay mask, but doesn't tighten as much as my Freeman clay mask. Which means, that I can smile and exhibit other expressions while I have it on without extreme pain from the mask cracking, so that's a good thing.
So far the masking is working. Total Beauty.com gives the mask a 10 out of 10 rating, I can see why.
To get the scoop on Pink Payapa and learn more about the Pumpkin and Goji Berry Mask, visit:
http://www.pinkpapayaparty.com/PAMPERME
.